North Park Apartment Project Completed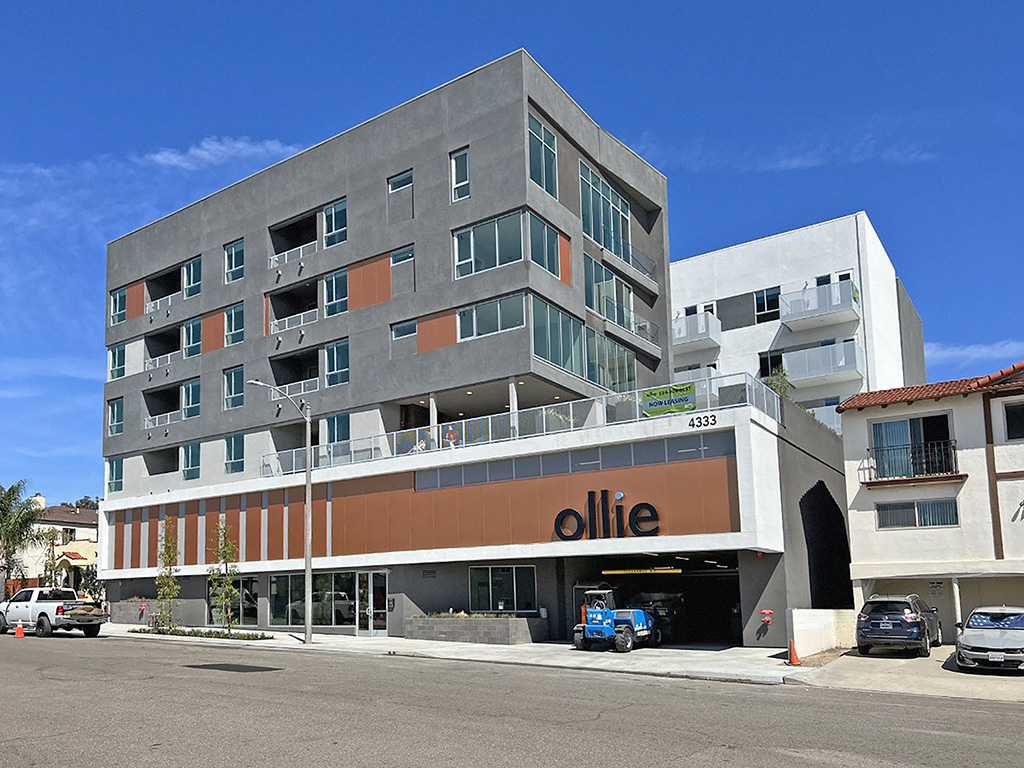 Poway-based Alliance Development Services is building a $20 million apartment project in North Park targeting middle-income renters.

Unlike many recent infill projects in North Park that have featured micro-apartments with reduced parking, Alliance's project Ollie will have 44 full-sized apartments with two levels of parking with 56 spaces beneath four levels of apartments.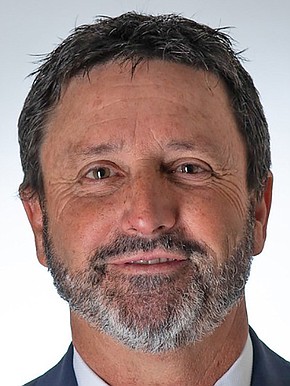 "It's just got a really cool vibe for the location," said Greg La Marca, president, principal and CEO of Alliance Development.
"You can see the North Park water tower. It sort of anchors the east end of North Park a little bit. It's got a very cool urban vibe that speaks to North Park," La Marca said. "It's got a lot of mesh finishes."

"North Park is one of the most exciting neighborhoods in San Diego. There's a lot of bodies and rooftops coming into the area," La Marca said. "It continues to be an area where the city supports dense development along urban corridors. They've allowed the area to grow into what will become one of the most exciting parts of San Diego."

The project's architect, Togawa Smith Martin, Inc., is based in Los Angeles.

Skateboarding Term

Named Ollie, the 17,500-square-foot project at 4333 Illinois St. will have 24 two-bedroom, two-bathroom apartments of 950 square feet and 20 one-bedroom apartments of 760 square feet.

That is in sharp contrast to some of the other North Park apartment projects that have had micro-units of less than 600 square feet.

Monthly rents range from $2,800 to $3,200 for one-bedroom apartments and $3,400 to $3,800 for two-bedroom apartments, La Marca said.  He said five of the apartments are earmarked for low-income renters.

Overall, the target market for Ollie is "young professionals or the young single person," La Marca said.

The name of the complex is a play on those demographics, referring to a move in skateboarding.

"That speaks to the energy of North Park and the youth that's there," La Marca said.

Tight Market

Community amenities include a second story deck with two barbecues and a fireplace.

"There's a lot of communal space. When you walk in the lobby, there's a conference room that can be used by the tenants," La Marca said.

Every apartment has a balcony, over-sized windows, 12-foot-high ceilings on the top floor and vinyl plank flooring.

The apartments also come with free Wi-Fi and storage units.

Alliance Development specializes in building apartment projects.  In addition to Ollie, the company built C+C Flats in Chula Vista with 43 apartments, North Santa Fe Apartments in downtown Vista with 60 apartments, Alante in Carmel Mountain Ranch with 50 apartments, and Cielo in Oceanside with 48 apartments.

"We have four projects in predevelopment," La Marca said. "Three of them are in North San Diego County and one of them is in Murietta."

Opened in March, Ollie is coming online in an especially tight apartment market.

"We do expect a fairly quick lease-up," La Marca said. "Demand appears to be very strong."

Figures aren't in yet for this year to date, but the commercial real estate brokerage Cushman & Wakefield reported that by the end of 2021, the countywide vacancy rate for apartments had dropped to 1.4%.

As housing prices have risen in San Diego, fewer people can afford to buy a home and are renters by necessity, adding pressure to the apartment rental market.

At the end of 2021, only 23% of San Diego households could afford to buy a home, according to Cushman & Wakefield.

The demand for apartments is drawing increasing investor interest in San Diego property. In 2021, $5.5 billion across 302 apartment properties changed hands in 2021, according to Cushman & Wakefield. That compares to $2 billion across 139 properties in 2020, the firm reported.
Alliance Development Services
Founded: 2008
CEO: Greg La Marca
Headquarters: Poway
Business: Housing development
Employees: 10
Website: www.all-dev.com
Contact: [email protected]
Notable: The company switched from building for-sale housing to building revenue producing projects – primarily apartments and townhomes.