DT Albert Regis a versatile player on the interior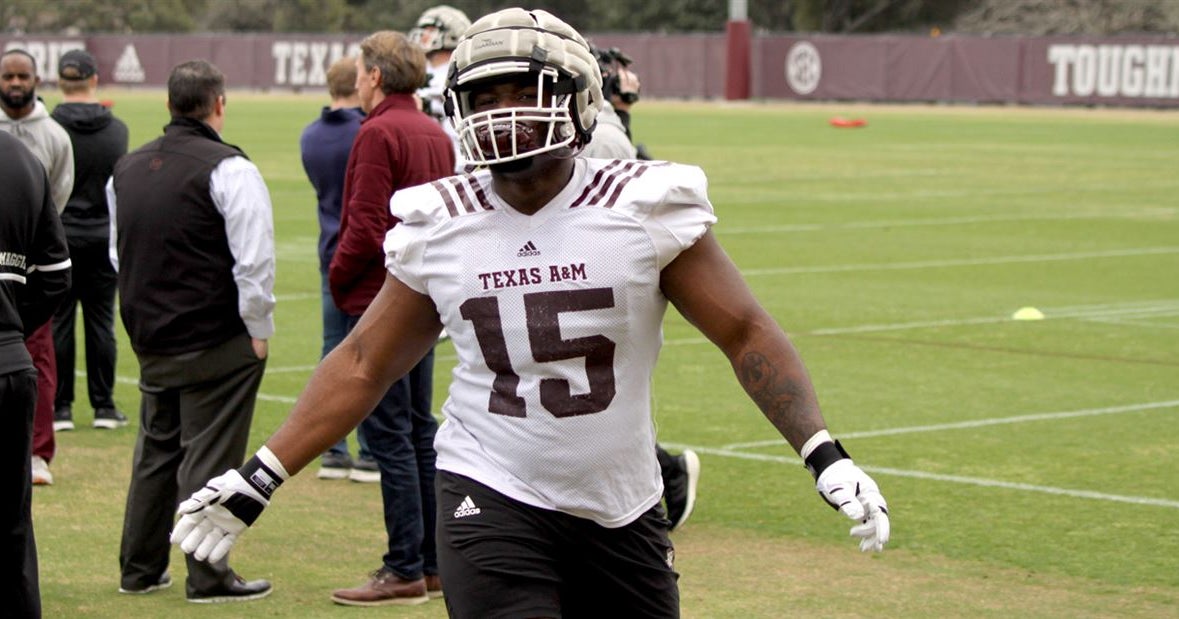 Texas A&M lost a number of key contributors from its 2021 team that included four selections in the most recent National Football League draft as well as seven other players who signed contracts as undrafted free agents. They included their leading rusher, their best and most versatile offensive lineman, perhaps the best tight end in school history, their leading tackler, a interior lineman who could play either defensive tackle spot, and three defensive ends who combined for 24 sacks.
They're also adding not just the nation's number one ranked recruiting class for 2022 but the best of all time per the 247 Sports Composite. The group includes eight five star rated prospects (four of them defensive lineman), the best group of wideouts in the nation, one of the country's top quarterbacks, the best collection of tight ends, and an array of people that can run in the back seven. Eleven of them were early enrollees with receiver Evan Stewart entering the starting lineup on the first day of spring practice.
In between, the Aggies welcome back players from three top ten recruiting classes that will flesh out the vast majority of the positions in the first unit. It will be these players and not the newcomers that will primarily determine how well the Aggies do in the upcoming season. This series is a look at those players in terms how they were rated coming out of high school, how they got to Aggieland, how well they've played so far, and most importantly what we can expect from them in 2022.
Texas A&M defensive tackle Albert Regis was an interesting addition to the Aggies' 2021 recruiting class as he played on both sides of the ball in high school and had the size and athleticism to play both interior spots. Injuries in the spring gave Regis an extended opportunity to show what he can do but he still faces significant competition not just from other veterans on the roster but talented newcomers in the 2022 as well.
What did A&M see in him?
It's not the fact that Regis played on both sides of the ball that makes him a different kind of prospect (nosetackle on defense and H back on offense). In fact, he moved around well enough to occasionally be split outside. Regis actually attended camp in Aggieland after his sophomore year but, at the time, he was a 6-foot-1, 240-pound defensive end. He picked up some other Power 5 offers early but a lot of schools had questions about his future position.
Recruiting ranking
Regis wound up as a three-star rated prospect with a 247 Composite of 0.8768, as the 71st best player in the state of Texas and the 33rd best defensive tackle in the country.
Commitment time
Now up to 290 pounds, a number of bigger schools were intrigued by how well he could rush the passer from the interior. A&M offered in early June, right after the decommitment. The Aggies were joined by Arkansas, Ole Miss and Texas in doing so. He was high on the Longhorns and most thought he would choose to play in Austin but Regis was pressed hard by the Aggies and chose A&M over Texas in October.
2021
Played defensive tackle and got in a few snaps during the win over Prairie View.
Spring 2022
Due to injuries at the position, Regis saw time with both the first and second units depending upon who was available. He didn't have a breakout campaign but was solid in terms of being able to hold his ground when he was at the nose and run plays down on things away from him.
Strengths
– Regis has the size and athleticism to do a lot of different things. In addition, his height and athleticism suggest that while his highest and best use is as an interior defender at the next level, he's not someone who displays a lot of get off that you would expect out of a traditional three tech. He generates push via his pad level as opposed to his burst.
– He was a true nosetackle in a three man front for La Porte and tends to take on double teams as opposed to being a one gap player and attempting to get penetration.
– Regis is always getting his hands up and engaging blockers due to his responsibilities and then making plays after he sheds them. This translates to the fact that he doesn't make stops early in a play but rather later on and up and down the line of scrimmage. He translates into a run down defender.
– He can run through people at times due to his pad level and a powerful upper body, especially when he is on the move. He has strong hands and when he makes them heavy opponents really tend to go down or backwards once he makes contact with them. This can be true coming out of his stance or if he is on the move chasing down a player from his alignment.
– He has excellent lateral agility and hips and uses those qualities to be effective running stunts from his alignment out to the B gap or beyond at times. He also has good straight line speed and so can make plays in pursuit.
Summary
– Regis is active but he is also listed at 6-foot-1 and 305 pounds. He's undersized compared to most of the nose tackles and he doesn't have great burst when it comes to getting penetration.
– He's gotten better at staying low when he comes off of the ball and he's been consistent at using his hands to engage and either keep blockers at bay or disengaging from them.
– Overall, Regis had a quiet spring at a time when much of his competition (McKinnley Jackson, Adarious Jones, Gabriel Brownlow-Dindy) was out due to injury. In addition, signees such as five star Walter Nolen will be arriving on campus as well.
– Despite the fact that he's got an interesting athletic profile, he's also got a lot of work ahead of him to grab a spot in the rotation as he continues to develop as a player.