Central Texas Home Builders give awards for best houses in 2022's Parade of Homes | Local News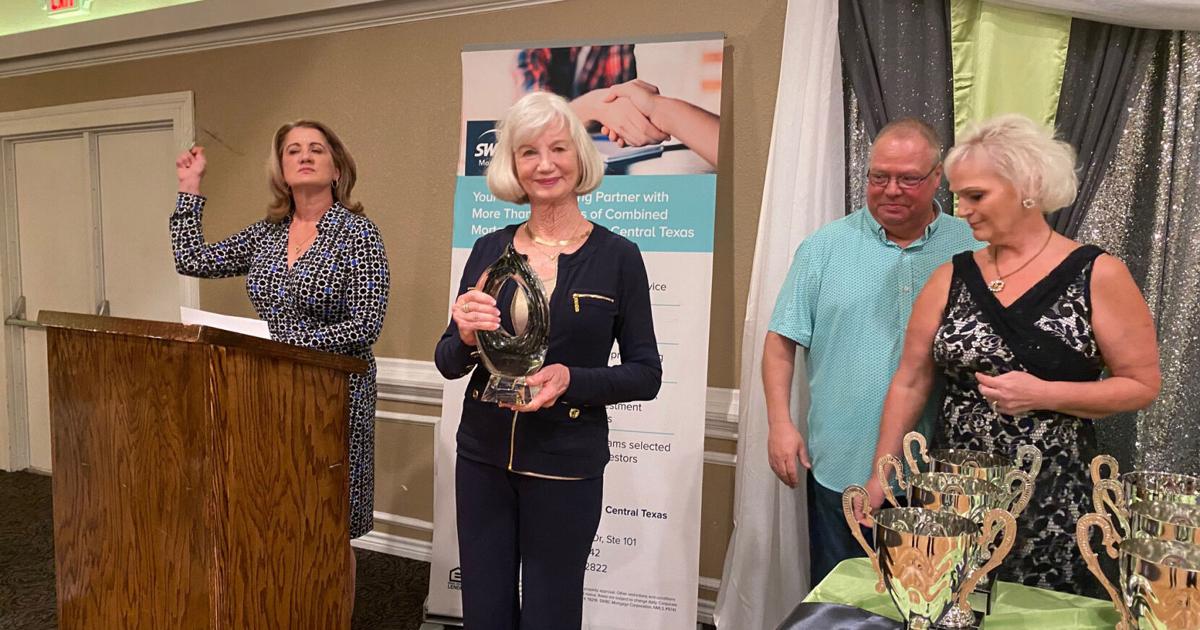 HARKER HEIGHTS — The Central Texas Home Builders Association hosted an awards ceremony Friday night to recognize the best homes in the Central Texas area.
The award for best overall home went to 3080 Pecan Meadows in Belton. The home was built by Dream Home Builders, which is owned by J.T. and Maria Haun, who are both Killeen natives, according to the 57th Annual Parade of Homes magazine.
The home is listed for $799,000.
The most heartfelt moment of the ceremony was when the association presented the Don Farek Lifetime Achievement Award to Jack and Carolyn Barnes. Jack received the award posthumously.
Colette Marshall, Jack's daughter, and Carolyn Barnes accepted the award on his behalf.
"From humble beginnings as a sharecropper's son to one of the most well respected and successful members of our community, Jack was not only a leader of this business but he was a leader for our family and this association as well," Marshall said.
Barnes' wife was also recognized for her many accomplishments and contributions to the association.
"In 1994, Carolyn Barnes became our first female president," Marshall said, "Carolyn's many contributions to this association was to help create an association that not only involved builders, developers, and suppliers but to also include real estate agents, mortgage entitlement companies, bankers, and city officials."
Barnes received a standing ovation as she stood up and accepted the award.
"Thank you all, I appreciate this very much. It is such an honor and I want to tell you that Jack would've been very proud of our help," Barnes said.
1. Best Kitchen $250,000-$350,000: 1637 Pima Trail, Harker Heights, Lackmeyer Homes
2. Best Kitchen $550,000-$650,000: 8000 Tenley Way, Killeen — Carothers Homes
3. Best Kitchen $750,000-$850,000: 3080 Pecan Meadows, Belton — Dream Home Builders
1. Best Bath $250,000-$350,000: 1637 Pima Trail, Harker Heights —Lackmeyer Homes
2. Best Bath $550,000-$650,000: 4096 Turning Leaf Drive, Nolanville — A&G Homes
3. Best Bath $750,000-$850,000: 3080 Pecan Meadows, Belton —Dream Home Builders
1. Best Interior Design $250,000-$350,000: 1637 Pima Trail, Harker Heights — Lackmeyer Homes
2. Best Interior Design $550,000-$650,000: 4096 Turning Leaf Drive, Nolanville — A&G Homes
3. Best Interior Design $750,000-$850,000- 3080 Pecan Meadows, Belton — Dream Home Builders
1. Best Craftsmanship $250,000-$350,000: 1637 Pima Trail, Harker Heights — Lackmeyer Homes
2. Best Craftsmanship $550,000-$650,000: 8000 Tenley Way, Killeen — Carothers Homes
3. Best Craftsmanship $550,000-$650,000: 3080 Pecan Meadows, Belton — Dream Home Builders
1. Best Exterior Design/Curb Appeal $250,000-$350,000: 1637 Pima Trail, Harker Heights — Lackmeyer Homes
2. Best exterior Design/Curb Appeal $550,000-$650,000: 4096 Turning Leaf Drive, Nolanville — A&G Homes
3. Best Exterior Design/Curb Appeal $750,000-$850,000: 3080 Pecan Meadows Drive, Belton — Dream Home Builders