5-story apartment complex proposed for Dunham Road | News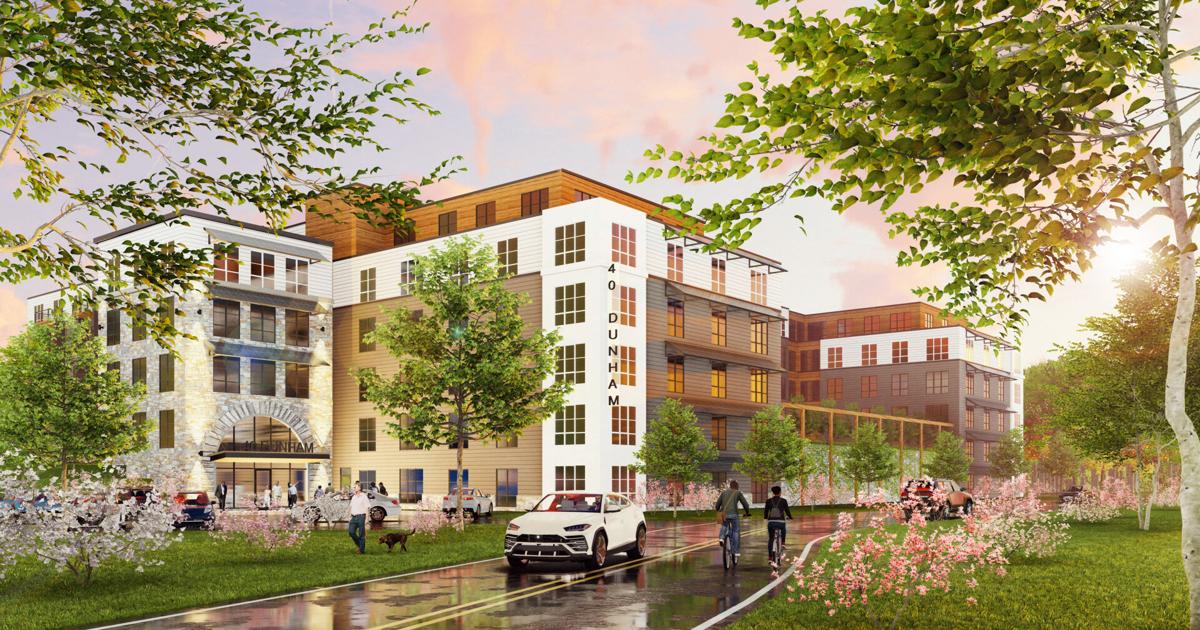 BEVERLY — A developer is planning to build a five-story apartment building on Dunham Road that would be mostly for people over the age of 55.
The new building would include 160 apartments and would be built on an open 4-acre site on a section of the Dunham Ridge campus that is next to the former Salem News building. At least 80% of the apartments, or 128, would be set aside for households that have at least one person over 55.
In its application to the city, developer One Circle Co. said the project would provide more affordable housing options for seniors in Beverly. Twenty-four apartments would be permanently restricted as affordable for seniors with more limited financial resources.
One Circle Co. filed the application with the Beverly Zoning Board of Appeals for a special permit to authorize construction. In a statement, the company said the project "aims to help meet the city's housing creation, sustainability and economic goals by delivering age-restricted housing units (15% of which will be affordable) in a high-performance building which reduces energy usage."
The company said the project would also bring permanent and temporary jobs to the city along with real estate taxes and building permit and usage fees.
"We look forward to working collaboratively with the city and neighborhood stakeholders to bring this project to fruition," the statement said.
The building would be the latest to be constructed at Dunham Ridge, a 54-acre property managed by Cummings Properties near Norwood Pond and North Shore Music Theatre. The campus currently includes five commercial buildings; this would be the first apartment building on the site.
The proposed site for the apartment building is one of the two remaining undeveloped parcels on the Dunham Ridge campus. Plans for an assisted living facility to be built at the other vacant parcel in 2016 never came to fruition.
The five-story apartment building would be built over a parking structure with 120 parking spaces, according to the application. There would also be surface area parking for about 90 vehicles.
One Circle said the apartments would produce "far less" traffic than another commercial building would. It would generate 504 vehicle trips on an average weekday, compared with an estimated 1,832 daily trips from a 150,000-square-foot office building, according to the application.
The building would include 78 one-bedroom apartments, 79 two-bedrooms and three three-bedrooms. Sixteen of the apartments would be designed to be accessible for people with disabilities.
The complex would include a fitness center, lounge, pet spa, bike storage and two large, landscaped courtyards, according to the application. Four people would work on-site, including a property manager, assistant property manager and two maintenance technicians.
One Circle said the apartments would provide a "convenient and steady audience" for the nearby North Shore Music Theatre.
The project qualifies as "subsidized elderly housing," which is allowed either "by right" or by special permit in all zoning districts in the city except in the waterfront districts in order to provide more affordable housing options for seniors, according to the company's application. The project needs a special permit because it would have 1.3 parking spaces per unit, as opposed to the two spaces required by zoning.
One Circle Co. has developed more than 4,000 apartment units from Boston to Virginia, from high-rise towers to smaller buildings in the suburbs, according to its website. The company's founder and CEO is Lauren Jezienicki.
Staff Writer Paul Leighton can be reached at 978-338-2535, by email at [email protected], or on Twitter at @heardinbeverly.